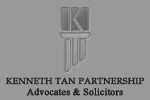 Wei Chi Soh
W
ei Chi Soh was awarded a First Class Honours in Law from Cambridge University in 1997. Before becoming a partner in Kenneth Tan Partnership, she had been a Justices Law Clerk for the Court of Appeal, an Assistant Registrar and Magistrate in the High Court, and an associate in the international arbitration and dispute resolution team in a leading American international law firm.

She was admitted as an advocate and solicitor in Singapore in 1999, and was also admitted as a solicitor in England and Wales in 2004. She received an International Diploma Certificate from the Chartered Institute of Arbitrators and has been a member of the Chartered Institute of Arbitrators since 2004.

» Complete resume available on request.
» Partners - Kenneth Tan, Senior Counsel