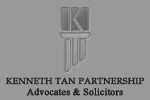 Kenneth Tan, Senior Counsel
K
enneth Tan topped his class through out his four years in law school and was awarded a First Class Honours in Law from the National University of Singapore in 1983. He was appointed as the youngest Senior Counsel - the Singapore equivalent of an English Queen's Counsel - when the first batch of Senior Counsel was appointed in 1997.

Prior to founding Kenneth Tan Partnership, he was a partner in a leading Singapore law firm. He has acted as counsel in many varied disputes. In addition, he is an experienced and accredited mediator and arbitrator.

» Complete resume available on request.
» Partners - Wei Chi Soh