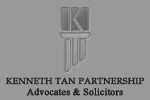 Our Firm
Kenneth Tan Partnership
is a dispute resolution niche firm founded in 1998. Its focus is civil and commercial disputes and it has been involved in many high profile and complex domestic and cross border disputes.

Its partners - Kenneth Tan Wee Kheng, Senior Counsel and Wei Chi Soh - have a wealth of experience in litigation, arbitration, mediation, negotiation and alternative dispute resolution. The firm acts for a wide spectrum of clients - individuals, including many of high net worth; coporations, including multi-national and government linked companies; societies and clubs; as well as international and local law firms who engage the firm as counsel and/or for specific advice (on or off record).

The firm advises in the thorough preparation of any potential dispute so as to avoid it if possible, and if not, to meet it with the best foot forward. It works at a negotiated resolution, where appropriate, through mediation, and continues to do so throughout the formal dispute resolution process.

The firm has extensive experience in all stages of the formal dispute resolution process from assessing and selecting the best case theories to better advance the client's perspective, crystallizing the thrust in written pleadings, managing discovery and written statements, conducting interlocutory hearings, running the trial itself, and following through any appeals.

Its partners are regularly involved in conducting all forms of formal dispute resolution in the courts, through interlocutories, and at trial and appellate level, and also dispute resolution outside the courts in domestic and international arbitrations and at administrative and disciplinary tribunals.
» View sampling of cases handled by our partners in the Singapore Supreme Court.